Career Development Counseling
THE STRONG INTEREST INVENTORY PROFILE
The Strong Interest Inventory® (Strong) assessment measures career and leisure interests. It is based on the work of E. K. Strong Jr., who originally published his inventory on the measurement of interests in 1927. The assessment is often used to aid people in making educational and career decisions.
HOW THE STRONG CAN HELP YOU
Strong Interest Inventory® Profile
(Excerpt from Strong Interest Inventory® Profile and Interpretive Report Interpretive Report developed by Judith Grutter and Allen L. Hammer)
The Strong Interest Inventory® instrument is a powerful tool that can help you make satisfying decisions about your career
and education.
Whether you are just starting out in your career, thinking about a change, or considering education options
for career preparation, you can benefit from the wealth of information reflected in your Strong results. Understanding your
Strong Profile can help you identify a career focus and begin your career planning and exploration process.
Keep in mind that the Strong measures interests, not skills or abilities, and that the results can help guide you toward
rewarding careers, work activities, education programs, and leisure activities—all based on your interests.
Managing our career is not a one-time decision but a series of decisions made over your lifetime.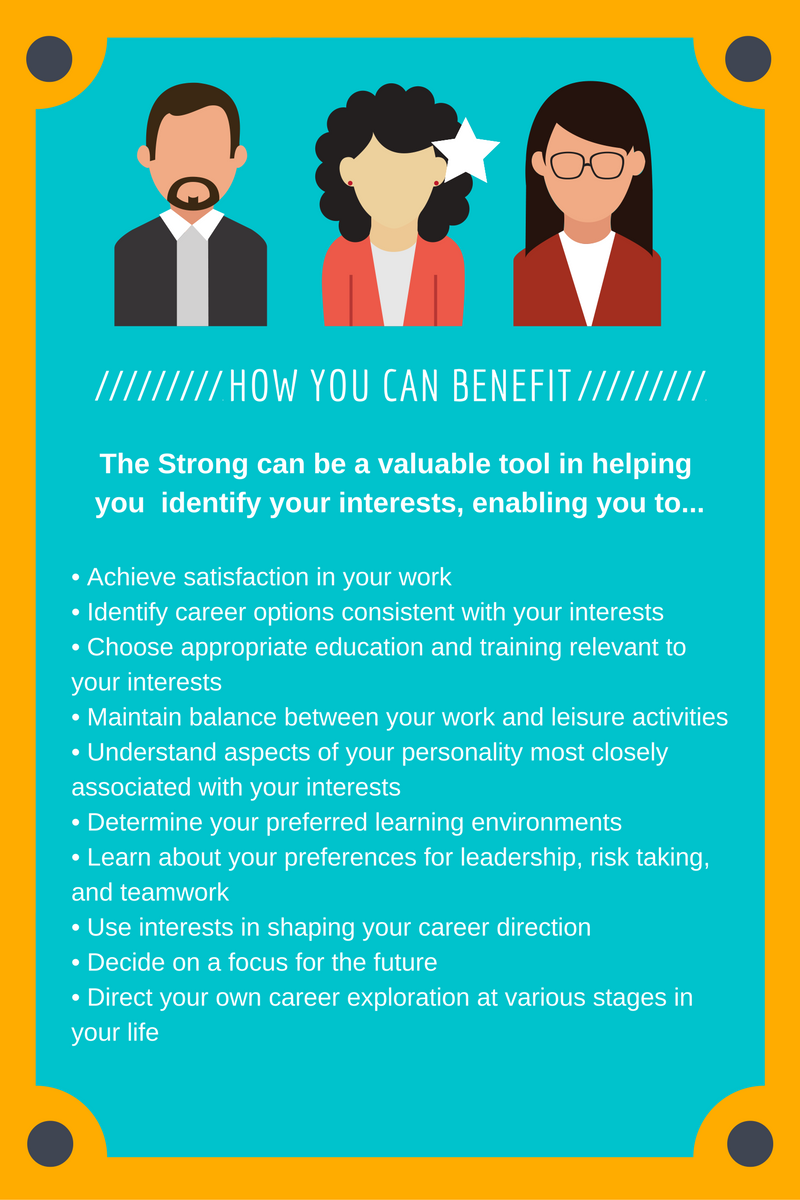 The Strong Interest Inventory® assessment is one of the world's most widely respected and frequently used career planning tools. It has helped both academic and business organizations develop the brightest talent and has guided thousands of individuals—from high school and college students to midcareer workers seeking a change—in their search for a rich and fulfilling career.
 The Strong Interest Inventory assessment is ideal for a wide range of applications, including the following:
Choosing a college major—helps students uncover their career interests and identify which areas of study are appropriate or required for a particular field
Career exploration—opens up the world of work to first-time career seekers and those considering career transition by identifying their interests and demonstrating how they relate to various occupations and careers
Career development—helps heighten individuals' self-awareness and provide deeper understanding of individual strengths and blind spots, including work style and risk-taking orientation
Employee engagement—helps employees align their interests with areas of responsibility in their job that reflect those interests
Reintegration—helps individuals navigate the reintroduction process after a period of disconnection
The Strong Interest Inventory assessment is a trusted tool because it is:
Empirically based
Underpinned by rigorous science and research
Regularly updated to reflect changes in today's world of work